Photographing product shots of the journals and various items I create is one of my least favorite parts of selling my work. It is often hard to chase the natural light around my house and the "ideal time of day" to shoot outside rarely coincides with my ideal time of day for shooting.
Add to that my desire for plain backgrounds and little to no shadows and reflections and I knew it was time to get a much needed light box into my studio. I found a  simple set-up online for $99 (including lights) and was preparing to buy one when I decided just to try making one with a few inexpensive materials.
My DIY light box ended up costing me just under $3.00 to make—not including any lighting. It may not be the prettiest thing but it works just fine.
Want to make one for yourself? Here is how I did it.
Materials
Cardboard Box (any size suitable for the objects you want to photograph)
White Muslin Fabric (this was $1.99/yd at my local fabric store, measure your openings with a little margin to determine how much you need)
White Bristol board or Poster board (to create a seamless background)
Packing Tape
Utility Knife
Ruler or Straight Edge
Marking Device (pencil, marker, etc)
Directions
Cut the top flaps off of your cardboard box.
Cut windows out of the front and two sides of the box. I left about a 2.5 inch border around the edges to help keep the box sturdy and to provide a bit of space for securing the fabric to the box.
Cut the muslin slightly larger than openings for the two side windows and the top of the box.
Stretch the muslin tautly over one of the side windows and secure all four sides with tape. Repeat for the other side.
Cut the white poster board to fit width-wise and slide into the top of the box sloping it to the front to create a seamless background. Trim the excess board off the top. I secured the top edge of the board to the box but this really isn't necessary.
Once your backdrop is in place you can put on the top of your light box. Stretch the last piece of muslin tautly over the top of the box and secure with tape.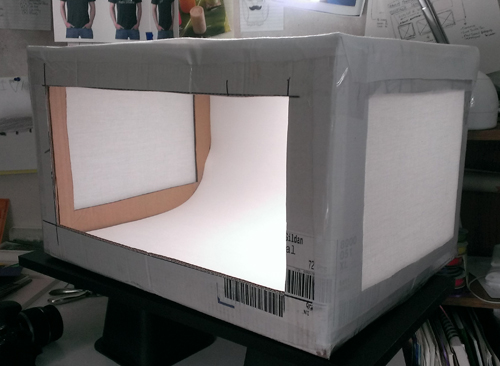 That's it! Now light it from the top and/or the sides for a nice diffused light. Don't forget to use a daylight balanced bulb and to not mix lighting types for easier control over color casts.
Results? Below are a few shots taken with the camera on my phone (except the last shot which was taken with an SLR). Box is lit from the top with a single light. Not bad for a $3 light box, eh?