The word charming always reminds me of royalty. I can't help but conjure up visions of grand ballrooms with huge staircases and beautifully inlaid floors. A prince in white with perfectly coiffed hair.
I blame Disney.
But that may change since I recently read a book by C.A. Belmond called A Rather Charming Invitation. It's not about a prince. Or a grand ballroom.
It's about an ancient stolen tapestry. And gambling. It's the story of an adventurous duo named Penny and Jeremy. And maybe even a wedding if all these crazy capers would stop occurring.
After picking up the book I found out that it is the third in a series about this crazy couple. But by no means did I feel lost without having read the other two. The book—albeit kind of slow in the beginning—ended up being rather charming indeed. It was a fun story and oddly a feast for the senses. C.A. Belmond does an excellent job describing the landscapes, the interiors, and all these wonderful little details about various things. Quite a bit of traveling around Europe happens in the story and you can picture it all so well with every turn of the page. You almost feel like you are there.
It would be a great summer read when you're hanging out in the backyard or by the pool instead of traveling around Europe.
Or even if you are traveling.
Whatever.
And guess what? You don't even have to go to the library or the book store to pick up a copy because I'm GIVING ONE AWAY!
Yep, I was sent two copies of the book and one of you awesome folks are going to get a brand spanking new copy.
JUST LEAVE ME A COMMENT.
That's it. Leave a comment with a valid email address so I can get in touch with you if you're the winner. It can be about anything. Books. Summer plans. Your idea of Prince (or Princess) Charming. Whatever you want.
Easy enough right?
So go do it. Comments close Friday June 4th. Winner will be determined by random number generator.
Good Luck and Read On!
*Disclosure: I received two copies of this book from the publisher through the Business to Blogger program (Check them out they are pretty cool.) One copy to read and review and one to giveaway.
Update 6.5.10: Thanks to all that entered! The winner is: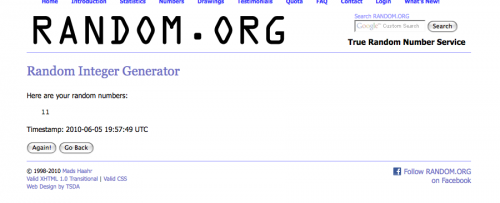 Comment #11— Vegas Princess! Congratulations!