Now that the weather is cooling down, I have decided to start baking more often. I LOVE cooking but baking isn't something that I do too often.  Ideally I want to bake something every week during the Fall and Winter season—which is LONG here in Ohio—but we'll see how that pans out. So far I'm doing pretty well and in the past several weeks I've made cut-out cookies, chocolate chip cookies, white bread, and banana bread twice. Side note: Ramp up the exercise to offset all this deliciousness.
Last night I made Apple Crisp with fresh whipped cream. I shared a picture on Twitter and Facebook and the response was super positive. So I thought I would share the recipe. After all, it is the perfect time of year for warm apple crisp with a nice cup of coffee or a tall glass of milk.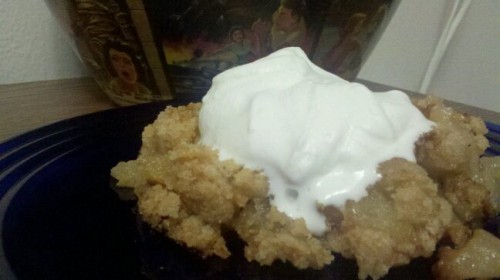 Apple Crisp
8 medium sized tart apples
3/4 cup flour
3/4 cup sugar
1/2 tsp. salt
1/2 tsp. ground cinnamon
1/4 tsp. ground nutmeg
1 stick (8 TB) cold unsalted butter
Peel, core, and cut apples into one inch chunks. Spread into a 2 or 3 quart ungreased baking dish (2 may be a little small depending on the size of the apples).
Mix together dry ingredients in a large bowl.
Cut butter into dry mix using a pastry blender, two knives, or your hands being careful not to to over-mix the butter—it should resemble coarse breadcrumbs.
Scatter topping over the apples. Tap dish once or twice on counter to settle crumbs a little.
Bake at 375° for 50–55 minutes (topping will be golden and apples will be tender when tested with a fork).
Serve warm with whipped cream or ice cream
Whipped Cream
Beat 1/2–1 cup cold heavy cream in a cold bowl with cold beaters until the cream thickens and forms stiff peaks. Cream will about double in volume.
*This recipe is from The Joy of Cooking—one of my much loved and very worn cookbooks.