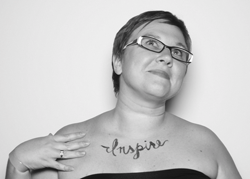 Hello to all of you stopping by today for the BlogHer@Home Blog Hop! My, you are looking lovely.

For those of you that read me on a regular basis, big sloppy smooches to every one of you.
I thought today I would just sort of introduce myself a little for those of you that are new to ArtistMotherTeacher.com.
I'm Holly and this is my little space on the internet. I am an artist, a mother, and a teacher—hence the name of this website. Clever, eh? I teach graphic design at a small college in Northwest Ohio. I love creating things with paper, experimenting with type, and taking lots of photographs. My husband is a full-time musician. We are far from a typical family. For our family portraits recently we wore fake mustaches. It was fabulous We have a 4 year old son and another on the due in just about 5 weeks!
Besides this website, I write for the Curvy Girl Guide—an amazing online magazine for real women with real bodies (whatever that shape may be) and for Babble.com's Being Pregnant.
I run a little Etsy shop called Bird Doodle and in honor of BlogHer@Home I'm offering 10% off anything in my shop through August 12th with the coupon code BLOGHERATHOME11. I'm also giving a couple of handmade items from my shop away in one of the many fantastic giveaways from BlogHer@Home. You should go enter.
Of course you can find me pretty much all over the internet and if it fancies you go ahead and click on the Twitter, Facebook, LinkedIn, etc. buttons over there on the right to connect.