When I was in my early twenties I LOVED going to the club on the weekend and dancing. I mean really loved it. Like there Thursday, Friday, and Saturday kind of love. And I danced all night long in high-heeled shoes and low-cut shirts. Damn I was a rock star.
That was over a decade ago.
How sad.
With a kid, a career, and responsibilities my partying days are a far cry from what they used to be. I am sure my body is thankful for that fact. Long gone are my days of dancing the night away at the club. And really, I am okay with that even if I do miss the dancing part a little bit.
And throwing a party? While I do LOVE to host a good party, that shit ain't cheap. Plus, my friends NEVER want to pretend it's American Bandstand in the living room. And? My Harry Buffalo tub has been long gone since that sleep-walking episode where I thought it was the toilet and only figured out AFTER I tried to flush it that I had just peed in an over-sized laundry tub. Tragic, I know.
Which brings me back to the fact that we just don't party down too much these days.
So when I was in New York for BlogHer I went to a few parties. Quite a few of them. And there were lots more that I didn't make it too. It was partypalooza. There was a little something for everyone.
And damn they were a good time.
On Thursday I went to the Martha Stewart Living Omnimedia party at the MSL offices (in one of the studios). There were fake eyelashes, diamond rings made out of pipe cleaners, paper crafts and food but no Martha. I did meet Lucinda Scala Quinn, who I used to watch ALL THE TIME on Everyday Food on PBS. She was lovely.
The eyelashes look cute here but get creepy when you pull them out later 3 little lashes at a time.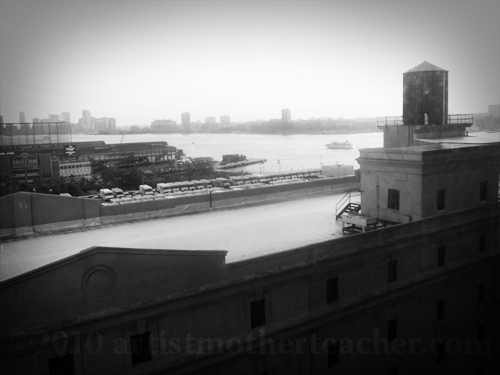 Beautiful view from the studio at MSL.
Me, Lucinda Scala Quinn, and a dude with a serious beard.

I also went to the Schick Intuition K.I.S.S. and Tell party that night. It was held at the Stone Rose in Columbus Circle. It was very shiny inside.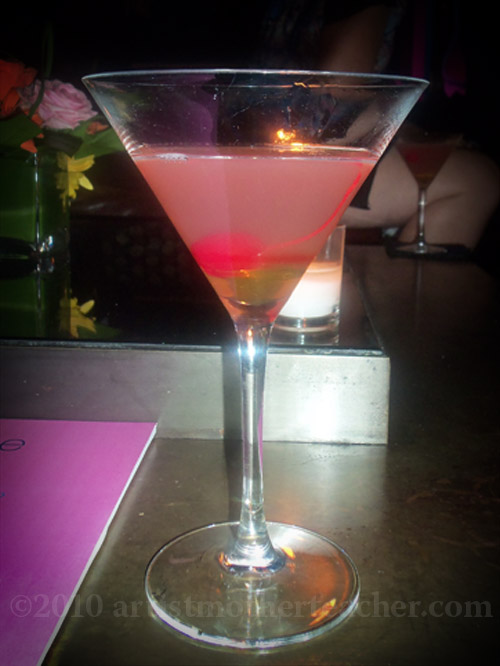 Honeybee Cosmopolitan
Since the party was hosted by Schick part of the decor included three models pretending to shave their legs with Intuition razors. All. Night. Long. It was so bizarre that naturally the first thing I do after I get a drink is ask the girls if they would pretend to shave MY legs.
Check out that calf muscle.
They were really good sports about it.
The K.I.S.S. and Tell party also had live entertainment provided by this awesome violinist who rocked out with a DJ. I know it sounds ridiculous but trust me, it was kick ass. And then? The charming Gavin DeGraw played a few tunes for us.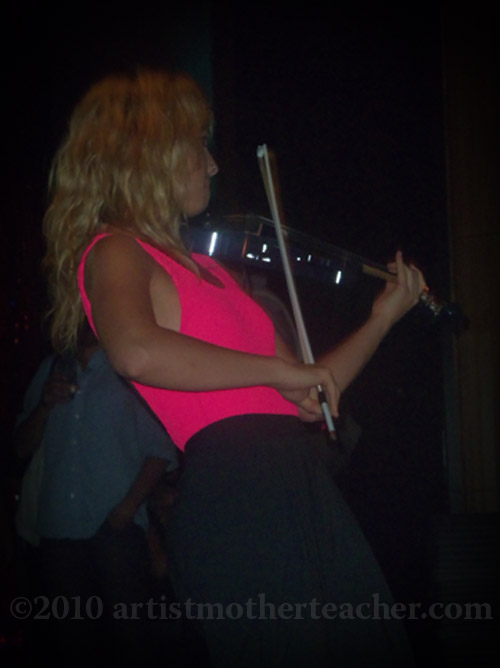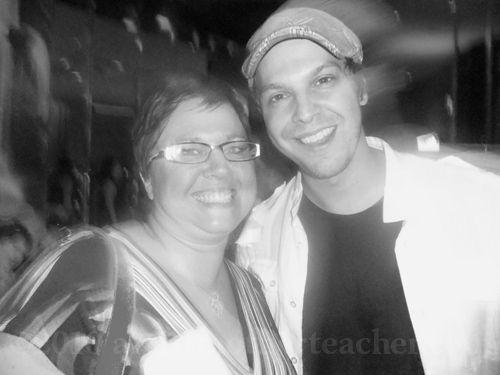 I think MFAmama must have been drunk when she took this. Clearly that is why I look so frightening.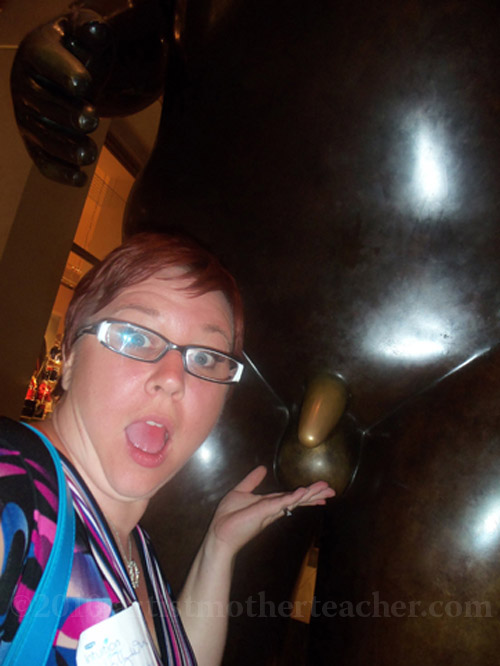 I saw this as I left the party. How could I NOT share it with you?
Good times.
Friday was BlogHer's Voices of the Year gala held right at the Hilton. I had another party to go to off site and I did not get to stay too long at this one. So I made it count while I was there.
I had the word "Inspire" painted on me by Melissa from ISLY. So very beautiful. So meaningful. So perfect.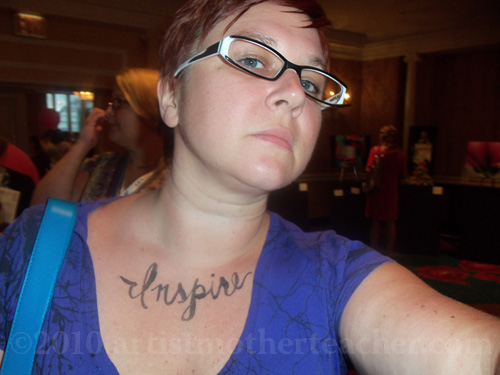 I'm not really pissed off. I swear.
Then I wrote on a thought bubble and was photographed old school Polaroid style.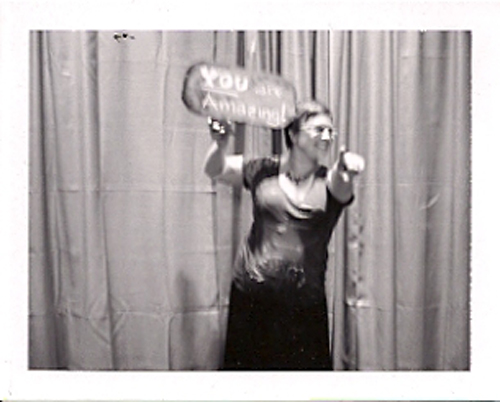 "YOU are Amazing!" Yes you.
And before I headed to my next event The Bloggess herself wrote me a poem.
"Anyone who knows the term "emulsion transfer" is too cool for me.
Thank you for slumming with me. –J Lawson"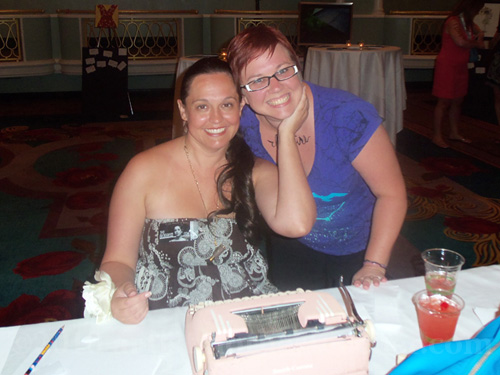 It's okay to be jealous.
Next was the Aiming Low EzPz party at Robert Restaurant hosted by these marvelous chicks. HP sponsored this event and along with super yummy things to eat and drink there was a photo booth to end all photo booths. I don't know what kind of magic was sprinkled in that camera trigger but everybody looked GORGEOUS in their pictures. No seriously. I want to construct one in my home. Immediately. And then take my picture in it every morning and show any person I come into contact with how smokin' hot I am in black and white.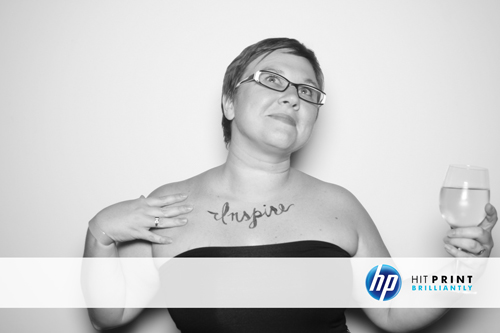 See? Even my paper bracelet looks good.
Me and the foxy Barefoot Foodie.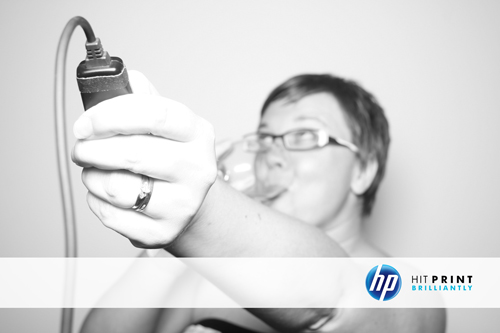 Multitasking.
And then Saturday. I almost skipped the party scene completely on Saturday. I had to be up at 4:30 on Sunday for my flight home. I still had to pack all my stuff. I was tired. But it was Sparklecorn. And CheeseburgHer.
Unicorn cakes. Paper bag hats. Dancing.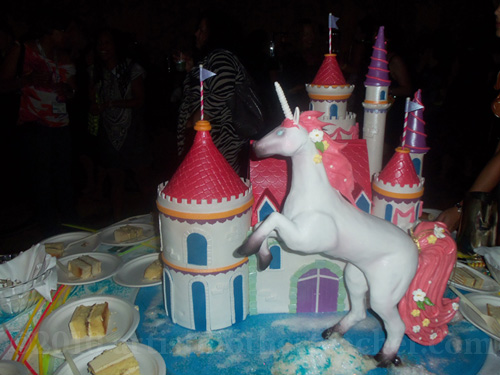 Yes, that is the cake.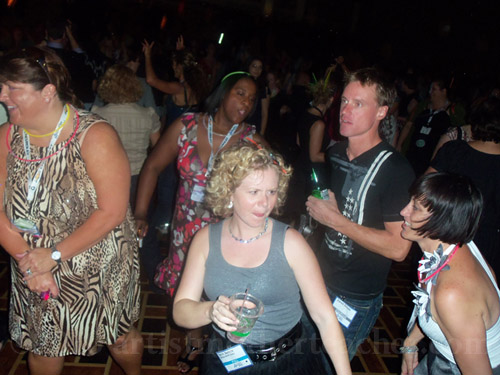 I love the look on every face in this shot. Especially Britt & Robin.
Oh yeah, and glow sticks.
When it came down to it, I really couldn't NOT go.
Besides, sleep is overrated.