For years I've wanted to grow roses.
It's one of those things that remind me of my mom. For years she has had roses growing in her yard. Each summer she would cut the flowers and put a bloom or two in vases around the house. And the smell is incredible. You wouldn't even have to get your nose that close to the flower to be able to smell them. The scent just emanates from them.
Plus, they were always so very pretty.
So for years I've had rose envy.
Until now. This year I was fortunate enough to be at Menard's at just the right time and they had huge cardboard containers of rose bushes in all types of colors and styles. The best part? They were only $1.50 each with a mail in rebate. Hell, for that price I could kill them all and not feel like I was wasting a ton of money.
So I bought three.
One Eclipse—a yellow long stem variety, one Mr. Lincoln—a red long stem variety, and one simply labeled Heirloom—a pinkish variety that touted lots of blooms and a strong scent.
They started blooming last week.
And they are beautiful.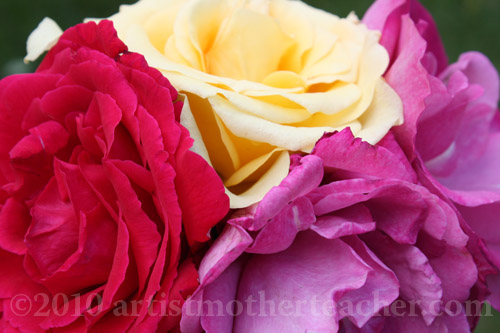 Even better is how good they smell. Right now I have a few sitting in a glass canning jar on a table in the living room. When the lightest breeze comes through and I catch a whiff of their scent? It smells amazing and feels like summer at my mom's house.
Which is to say, it feels like love.
And that makes me happy.
*This week I'm joining in Wordful Wednesday hosted by Seven Clown Circus. Want to play along? Click on the button below.