Cooking on the grill is one of those things that always makes me happy. We grill all year round but seem to amp up the outdoor cooking when the temps rise here in Northwest Ohio. And since summer is in full-swing the bbq is seeing more action than the stove these days.
Chicken is a favorite on the grill and I like to mix up how we grill it by trying new things. I put together these Garlic-Stuffed Bacon-Wrapped Chicken medallions last week with a few items we almost always have on hand—bacon and garlic. They were a big hit with the family and could be changed-up in any number of ways.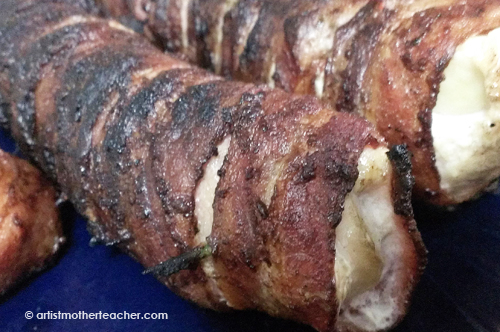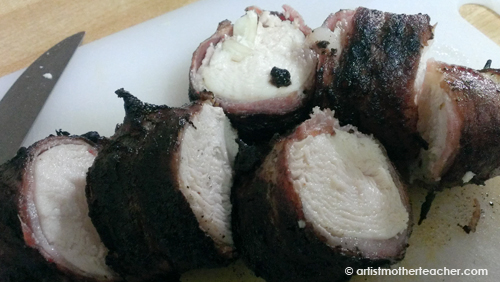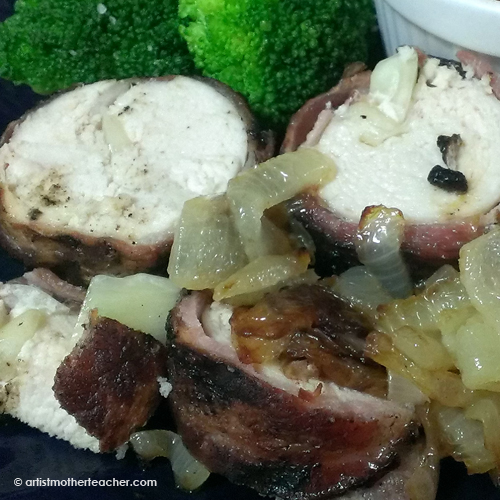 Garlic-Stuffed Bacon-Wrapped Chicken Medallions
Recipe type:
Main, Chicken, BBQ
Prep time:
Cook time:
Total time:
Ingredients
2-3 Medium Boneless Skinless Chicken Breasts
Sliced Bacon (about 6 slices per breast)
Fresh Garlic Cloves
Black Pepper
Instructions
Pre-heat grill.
Peel the cloves of garlic and crush slightly with the back of a knife.
If necessary butterfly or pound the chicken breasts so each breast is relatively uniform in thickness.
Lay 6 slices of bacon on your work surface with edges just touching or barely overlapping.
Place one chicken breast perpendicular to and about about an inch from the bacon edge. Bacon slices should be about the same width as the breast so the chicken is completely covered with bacon.
Put a line of garlic along the length and just off-center of the chicken breast.
Dust with fresh ground pepper.
Starting with the bacon edge that was left exposed, roll the bacon/chicken/garlic stack into a tight roll.
Secure by running one toothpick through each slice of bacon starting near the bacon end and straight through to the other side.
Repeat for remaining chicken breasts.
Cook on the grill over medium-high heat—turning to get all sides—until the bacon and chicken are thoroughly cooked. Approximately 20 minutes.
Let chicken rest for 5 minutes and then slice into medallions between each bacon slice. *Don't forget to remove the toothpicks!*
Notes
Cooking the whole breast at once and slicing into medallions after cooking keeps the chicken moist while allowing the bacon to get crispy. Try roasting the garlic first for a more subtle and nutty flavor.