One of my favorite things about Halloween time is roasted pumpkin seeds. Year after year I sort all the seeds from the goop we pull out of our pumpkins before they get carved up into scary/funny/wicked awesome jack-o-lanterns. It's a tedious process but roasted pumpkin seeds are a must have and homemade ones are infinitely better than the over-salted variety you find at the store.
My pumpkin seed recipe has been the same for years. And it is a good one. The only thing that keeps me from inhaling them all the moment I pull them from the oven is the idea of running out of them too soon.
If you haven't carved up your pumpkins yet do yourself a favor and save the seeds when you do. Then try this recipe. You'll be glad you did.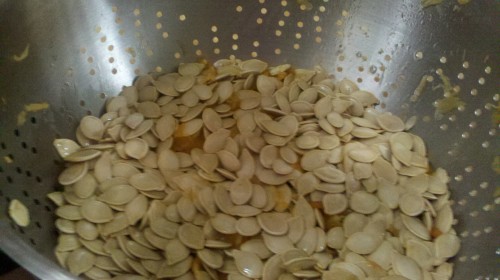 Preheat the oven to 250°.
Rinse the seeds in a colander. It's okay if there are still some pumpkin guts in there. Pumpkin = Flavor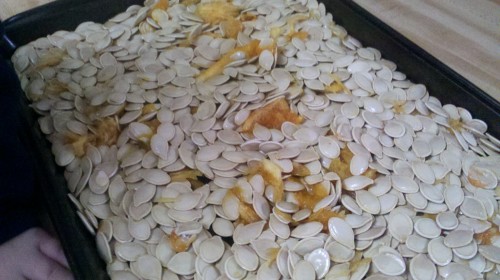 Spread the seeds and bits of guts onto a baking sheet. I recommend one with a lip around the edge so you don't lose any of the precious seeds when you stir them later. Toss them in the oven for 10–15 minutes to dry them a tad.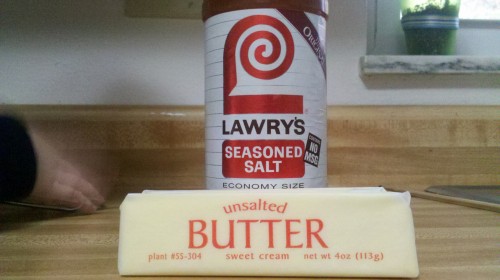 Grab the other ingredients. Lawry's Seasoned Salt and REAL Butter. Don't go generic on the salt and don't use margarine. Trust me.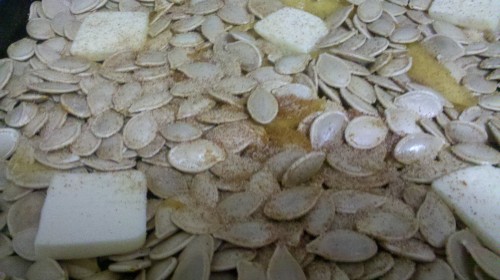 Top the pumpkin seeds with several pats of butter and sprinkle somewhat generously with the seasoned salt. The warm/semi-dry seeds will melt the butter. Stir it all up to coat all the seeds and toss it back in the oven.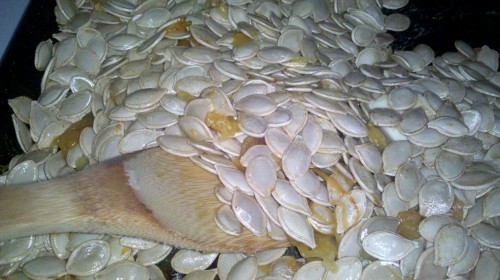 Bake for 45–60 minutes stirring and checking every 15 minutes or so until the seeds are golden brown.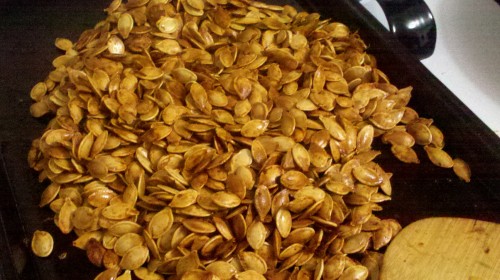 Enjoy and try not to shove them all in your mouth at once.