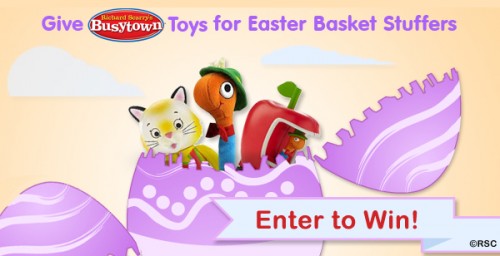 When I think of Busytown, I always think book pages filled with animals driving crazy cars throughout a town flanked with words describing what we are seeing.
Inhabited by anthropomorphic animal characters including Huckle Cat, Lowly Worm, Hilda Hippo, Bananas Gorilla and many others, Busytown is world full of learning opportunities.
Library.
Table.
Chair.
Book.
Paper.
Pencil.
From large to small it is there in Busytown, a fictional town created by long time children's author Richard Scarry.
My husband and I grew up reading and learning with Richard Scarry's animal friends. When G-tot turned two, we bought him a huge Richard Scarry book so he could have that same great experience of discovering new words and learning new things in Busytown.
Needless to say, we are big fans of Busytown in this house. We read the books. We watch the shows. We play with the toys.
And YOU have a chance to win a great prize pack and play with Richard Scarry's Busytown toys too!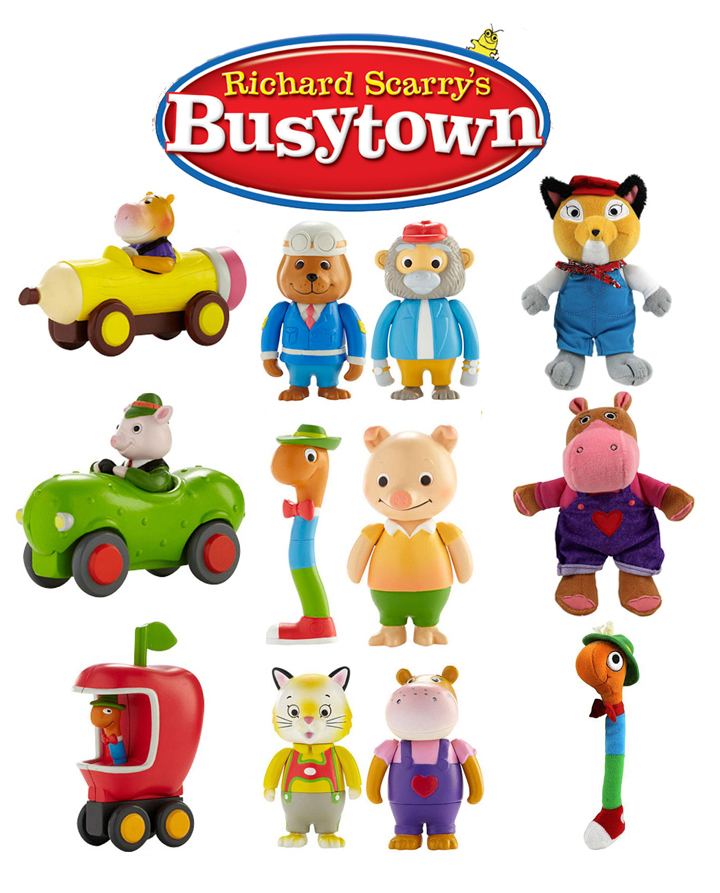 Richard Scarry's Busytown Toys – Great Easter Basket stuffers.
Welcome to Richard Scarry's Busytown!  It's the liveliest, funniest, busiest town around!  Based on Richard Scarry's classic books enjoyed by generations of families, children would love to be surprised by an Easter basket filled with a Richard Scarry's Busytown vehicle pack, figure pack or mini plush.  These vehicle and figure packs are compatible with most wooden railway track play systems.  A comprehensive Richard Scarry's Busytown play system is available, too, so kids can collect them all or build a Busytown all their own!  These toys are available at Toys"R"Us stores nationwide or online at ToysRUs.com.
Ages 3+
One (1) winner will receive:
An Easter Basket filled with a surprise selection of 8 products from the Busytown Easter Gift Picks including:
1 Busytown Small Vehicle Pack
1 Busytown 2-pack Figure
1 Busytown Mini Plush
Want a chance to win?
Of course you do.
Leave a comment on this post and you will be entered to win this fantastic Busytown prize pack.
Let me know which Richard Scarry character holds a place near and dear to your heart.
Pontificate about why Mr. Frumble drives a pickle car.
Or just tell me you want to win.
Want a second chance to win? 'Like' Richard Scarry's Busytown on Facebook (leave a separate comment on this post to let me know you did).
Giveaway will run until 11:59 pm EST on Wednesday, April 4th. Winner will be chosen by random number generator and notified via email.
Disclosure: I was provided a set of Richard Scarry Busytown toys to review and offer a giveaway on my site. Opinions are my own.
UPDATE, 4.5.12: Winner by random number generator (and excluding my replies) is comment #15—Nanette. Congrats, Nanette!