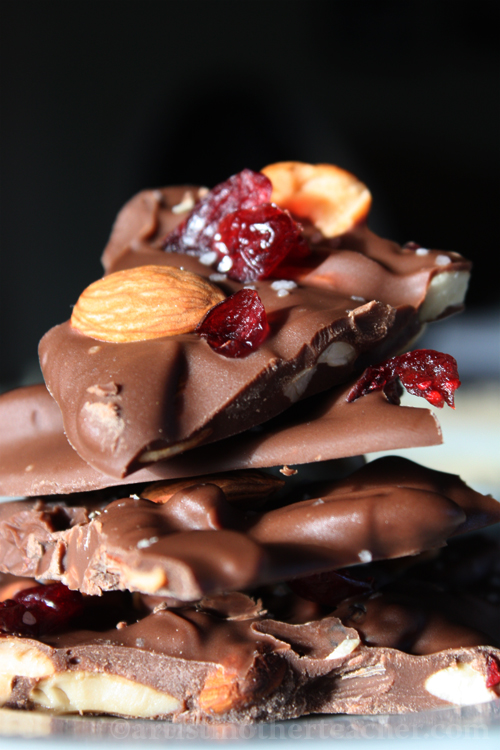 Inspired by this post written by Daisy over at Curvy Girl Guide (you are reading CGG, right? You know I also write there, correct?), I decided to make a batch of my own bark.
The results were fantastic.
In my opinion, the beauty of bark is that you can throw pretty much whatever you want in the chocolate and create some pretty delicious results. In addition to the dried cranberries, almonds, and cashews, I sprinkled some kosher salt on the top of the chocolate before it set. I highly recommend doing this. I do the same thing when I make almond clusters. I don't use salted nuts and the addition of the kosher salt at the end is a great contrast to the creamy sweet chocolate.
Cranberry Almond Cashew Bark
Ingredients:
5–6 ounces Chocolate Chips (milk or dark)
1/2 tablespoon vegetable shortening (like Crisco)
Dried Cranberries
Whole Natural Almonds
Cashew Halves & Pieces
Kosher Salt
Directions:
Place chocolate chips and shortening in a double boiler—I use a small metal bowl set inside a small pan filled with a little water—over medium heat. Stir occasionally as the chips melt being careful to not get any water in the bowl.
Remove from heat and stir in 1/4 to 1/2 cup each of the almonds, cashews, and dried cranberries.
Pour the chocolate mixture onto a rimmed cookie sheet lined with wax paper and spread out with a spatula.
Top the bark with a few more cranberries, almonds, and cashews and sprinkle with kosher salt.
Refrigerate to set. Break apart set bark with a butter knife.
Notes:
5–6 ounces of chips is about half a bag. I just eyeball it and don't worry about measuring out the chocolate.
Dry off the bottom of the bowl you melt the chocolate in before pouring the mixture onto the baking sheet so no water drips into the chocolate.