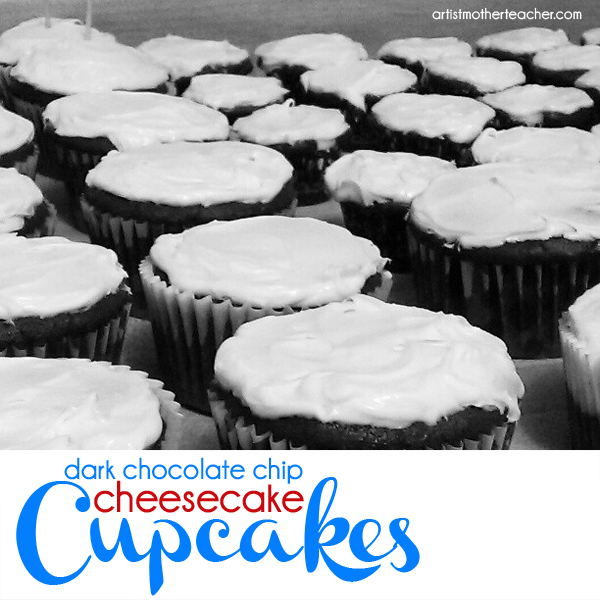 You guys,  these cupcakes are ridiculous. Just sitting here writing about them makes me want to run to the kitchen and whip up another batch. They may be one of the best treats I've ever made. And I've made a lot of treats.   For this recipe I used a dark chocolate fudge cake mix and cream cheese frosting but you could mix flavors up to your liking. The star of this show is the cheesecake center. Creamy. Speckled with dark chocolate chips. Divine.
How can you say no to this?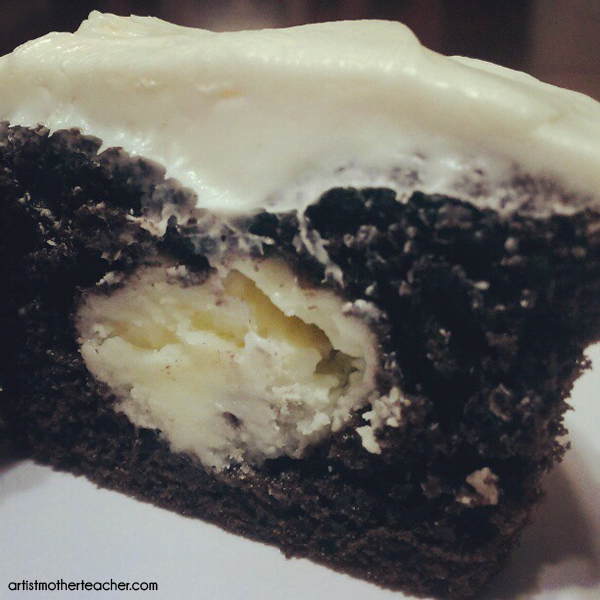 And the best part is that they look really fancy but they aren't hard to make at all. I promise.
Enjoy!

Dark Chocolate Chip Cheesecake Cupcakes
Author:
Holly @ ArtistMotherTeacher.com
Cuisine:
Cakes & Cupcakes
Moist dark chocolate cupcakes with creamy dark chocolate chip cheesecake centers.
Ingredients
Cake
1 box Dark Chocolate cake mix
3 large eggs
1 cup water
⅓ cup vegetable oil
Filling
1 (8 oz) package cream cheese, softened
1 egg
½ cup sugar
½ cup dark chocolate chips
Frosting
1 can cream cheese frosting
Instructions
Preheat oven to 350°.
Line cupcake pan with baking liners.
In a large bowl blend together the cake mix, water, oil, and eggs for 2 minutes until well mixed.
Note: If the box mix call for a different ratio of eggs, water, and oil adjust accordingly.
Fill each baking cup with ½ way with batter.
Filling
In a medium bowl blend cream cheese, sugar, and egg on until smooth and creamy.
Stir in chocolate chips.
Drop a spoonful of filling into the center of each cupcake on top of the batter.
Note: The filling will sink as the cupcake bakes. No need to push it into the batter.
Bake for 18–20 minutes. Cupcakes are done when a toothpick inserted into the center comes out clean.
Cool cupcakes completely and frost with cream cheese frosting.