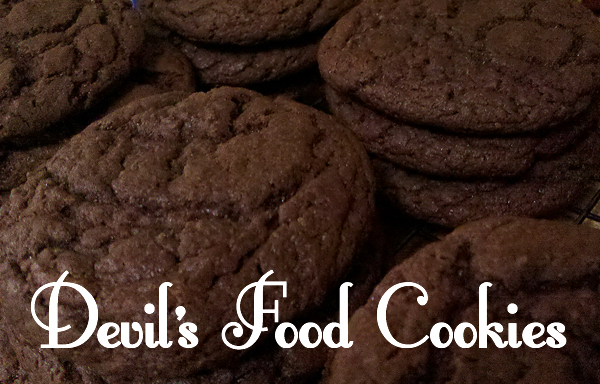 It's not uncommon to find a box or two of cake mix sitting on our pantry shelves any time of year. Cake mixes often go on sale for about a dollar each at the grocery store we shop at and in my opinion you don't need a special occasion to eat cake.
But sometimes baking a cake—even with a mix—is more effort than I feel like making. So on a recent quest for something chocolate I decided to try something a little different with the box of Devil's Food cake mix we had on the shelf. Cupcakes be damned. We're making cookies.
Cookies.
Chewy, easy,  4-ingredient, chocolate cookies.
They didn't last long.

Devil's Food Cookies
Makes approximately 2½ dozen cookies.
Ingredients
1 box devil's food cake mix
⅓ cup vegetable oil
1 teaspoon vanilla
2 eggs
Instructions
Preheat oven to 325°.
Mix all ingredients together thoroughly to form a dough.
Refrigerate for 20 minutes.
Shape dough into one inch balls.
Place on ungreased cookie sheets 1–2 inches apart.
Bake for 10–12 minutes our until set.
Cool briefly on cookie sheets and move to cooling racks.