Here's a sneak peek at one of the items I'm putting in a little favor bag for G-tot's party on Sunday. I don't want to reveal everything before the party—I want my guests that read this blog to be surprised. But just this one won't hurt.
The super spectacular chocolate dinosaur eggs. I had this ingenious idea to take Cadbury mini eggs and turn them into dinosaur eggs. They are speckled and matte finished and exactly what I wanted. No other time of year could I have pulled this off so easily. Genius I tell you.
I found the perfect sized 3 x 4 cellophane bags at the hobby center. In each bag I put 5 eggs, folded over a little flap and secured it with a small piece of scotch tape. I made up some labels in Illustrator to go along with the theme and stapled one to each little package.
I think they turned out pretty awesome. Did I mention that I'm a genius for thinking of this idea?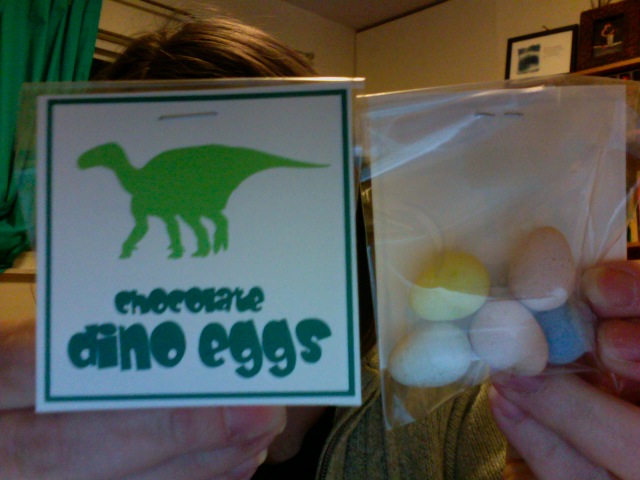 Sorry about the picture quality. I blame Photo Booth.