That hot mess is just a portion of the many loose recipes I have floating around my kitchen. Entrees, desserts, cocktails, salads and more all mixed together in a pile that mocks me every single time I try to find a recipe. Not to mention the countless recipes in there that I have yet to make. The "oooh, that sounds good, I'll print that out and make it later" recipes.
The madness must stop.
So…I've decided to try and organize that debacle into something a little more manageable. Ideally they end up in a neat 3-ring binder organized by sections. But let's face it, I've been meaning to organize that folder full of recipes since I was pregnant with G-tot and he is four now. I wouldn't hold your breath that it will be done anytime soon.
I have, however, started the process. Over the last week or so I have sorted every one of those recipes from that raggedy folder into manila folders organized by types of food.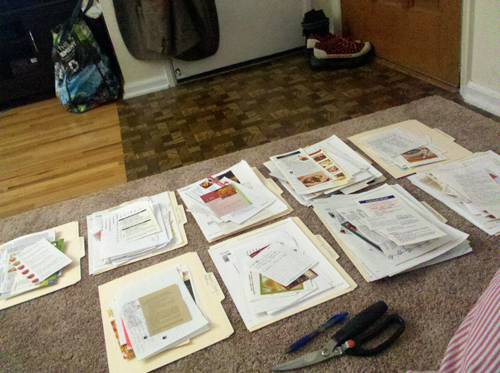 OMG, this was time consuming.
They will probably be in that state for awhile.
Along with organizing them I'm going to try making some of the recipes that have never graced my stove top before. As I was sorting the recipes I was practically drooling over the possibilities my palette has missed out on.
The cocktails section will sadly have to wait until September.