As I scrolled through the literally tens of thousands of pictures on my laptop Sunday evening, trying to pick one photo that captured a particular meaningful moment, something dawned on me. The big moments in life—birthdays, weddings, holidays—are important, but it's the little everyday moments that make life meaningful. Don't save your camera for a special occasion—capture the everyday and those moments will be special occasions when you look back on them.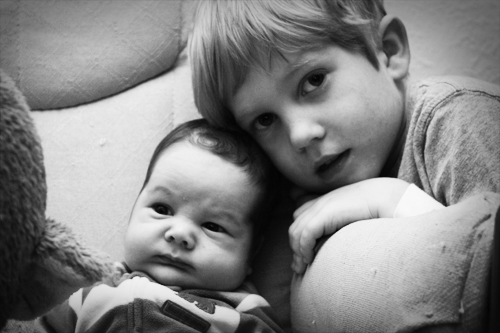 Taken on Sunday, this is an "outtake" of sorts from a series of photographs I take of my children to document them growing up. Each week—up to their first birthday and then each month—I take a picture of my kids sitting next to a stuffed monkey. Each one has their own monkey and it serves as a constant in the photos to see how the kids grow over time. Those weeks and months quickly add up, and these photos are evidence that time really does fly by.
On Sunday Huggy Baby turned 6 weeks old and as I snapped a few shots of him and his monkey G-tot sidled up next to his brother. So I took a few more shots of the two of them.
And when I look at that photograph I see a moment of pure love.
A new baby.
A new big brother.
The beginning of a life long friendship.
My two boys who will grow up too fast all the while experiencing countless everyday moments with each other.
I plan to capture as many as possible.
This post is sponsored by Kodak. October 17–23 is Free Kodak Prints week—a week long event designed to help you unleash your photos from your hard drives and Facebook albums by offering 20 free 4 x 6 inch prints when you "like" Kodak on Facebook. Additionally, to help celebrate Free Prints Week, Kodak is partnering with the popular Tumblr blog, My Parents Were Awesome, as a way to encourage people to print and share recent photos and those of the past.