Dear Gideon,
Every once in awhile I find myself having to choose whether to be a straight-faced parent or to just laugh hysterically when you say something inappropriate (whether you realize it's inappropriate or not). Since I tend to have the maturity level of a 12 year old boy, I usually choose the latter. When we had the following conversation a couple of weeks ago it took everything I had to not keep laughing until I either cried or peed my pants. I had to actually contain myself and tell you it wasn't a nice thing to say even though it was HILARIOUS!
ME: (while changing your diaper) P.U. You have a stinky butt.
YOU: Huh?
ME: You have a stinky butt.
YOU: You have a stinky 'gina.
Seriously, how could I not laugh?
Never mind the fact that it is incredibly inappropriate. It was a perfectly delivered comeback by a two and a half year old. With barely any hesitation.
Priceless.
33 months—December 30, 2009
You are totally a Momma's boy right now and while I imagine it makes your Daddy jealous, I absolutely LOVE it. The snuggles. The kisses. The requests for me to sing you a lullaby each night I'm home from work and able to tuck you in bed. The way you always call out "Mommy" when you wake up from a nap or night's sleep. Every one of those moments is a treasure to me because I know they won't last forever. Which makes me incredibly sad.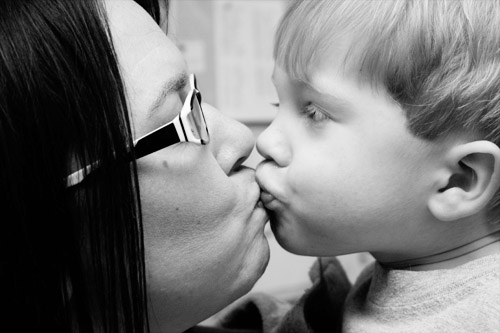 I'm pretty sure you are the sweetest and most charming little boy I have ever met. This morning when I finished getting dressed for work and was putting on my glasses you looked at me and said, "You're Beautiful." Thank you for that.
Last night as we walked hand-in-hand down the basement steps you were telling me how you are such a big boy. I agreed and said not to become a big boy too fast. Your answer to that was "Okay Mommy, I'll stay tiny."
Yes, a thousand times over yes, please stay tiny. At least a little bit longer.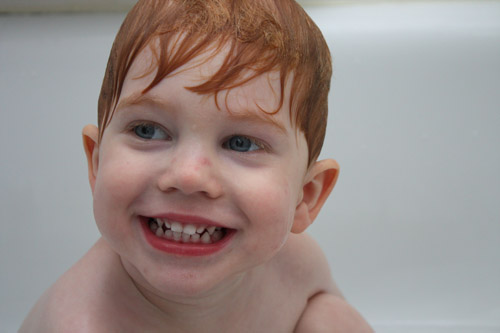 Love,
Mommy