For his birthday back in March, G-tot got a set of really cool kid's yard/garden tools. Attached to the set was a pack of white pumpkin seeds and sunflower seeds to plant. The seeds didn't come with the tools, they were picked out especially for G-tot by his grandma. A woman who loves flowers and gardening as much as I do. I couldn't wait until spring so we could plant them. I have never grown pumpkins before. And I have never grown sunflowers.
The sunflowers are AWESOME!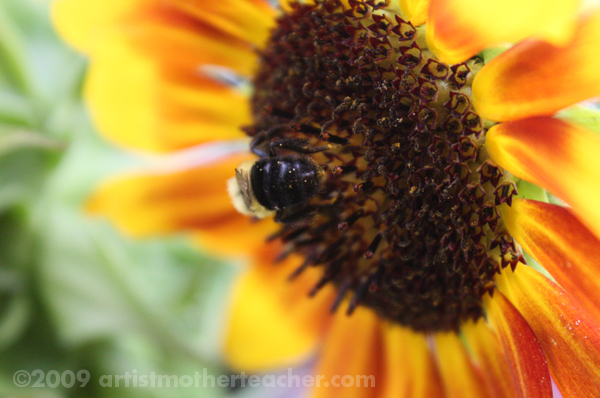 They tower over all of us. They attract the bees which is great for our garden and the environment. When the flower petals fall I am cutting off the heads and drying them out. Some of the seeds will feed the birds this winter. The others will be planted next spring in our yard or sent off to friends to be planted in theirs. The flowers are a blend of red, orange, and yellow with gorgeous concentric circles of color. If you want some, let me know and I'll send them to you when the packets are ready. Oh, and they produce multiple flower heads per stalk at a time. I had no idea they grew like that.
They really are beautiful. And did I mention tall? Here's a shot of me and said flowers for a sense of scale. I'm a wee 5'4″, but still.