Wait…no, it's just a little turkey G-tot and I made this afternoon. Isn't he cute?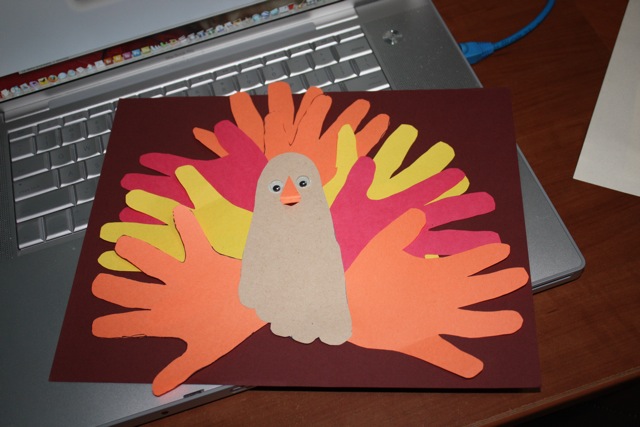 Want to know how we made it?
Supplies: 3 or 4 sheets of construction paper for the feathers (we used 1 each of red, orange, and yellow) & 1 sheet for the body (I had a tan sheet laying around but you could use white and have your child color in the body), glue stick, googly eyes are optional (I just happened to have a pair on hand)
Trace your each of your child's hands on a single sheet of construction paper.
Stack the other papers you are using for the feather underneath and cut out the hand shapes.
Trace your child's foot on the paper you are using for the body and cut it out.
Glue the hands (feathers) to the body (foot) from the back.
Fold a scrap of orange construction paper in half and cut out a small triangle (with the bottom of the triangle on the fold). Glue to the body for the beak.
Add googly eyes or use a marker to draw two eyes above the beak.
You could also cut out a waddle from a small scrap of red construction paper and glue it under the beak if you would like.
Voilá! Instant turkey and a nice memory of the size of your child's hands and feet if you hang on to it after Thanksgiving.