We are a family of readers. One of my favorite things to do is curl up in bed at the end of the day with G-tot and read him a few stories before bedtime. We hit the library on a weekly basis and bring home no less than 10 new books a week. By the end of the third or fourth day we've read them all.
I hope we are nurturing a life long love of reading in our son.
My love of the written word makes me giddy when I have the opportunity to review kid's books. Even better is when I can give copies away to you fine folks!
Today I have that chance.
I recently received a copies of Ladybug Girl and the Bug Squad as well as Ladybug Girl at the Beach. Both are charming tales about Lulu, a little girl who loves to dress up in her ladybug costume and use her imagination to create adventure in her life.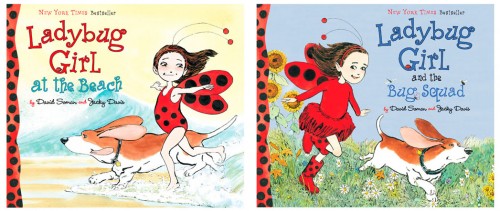 In Ladybug Girl and the Bug Squad, Lulu learns that even though things don't go as planned at her play date with friends, it's okay to just go with the flow. Even if that means saying you are sorry when you try to make things go your own way.
In Ladybug Girl at the Beach, Lulu tackles the unknown with a brave face and discovers just how much fun the beach can be beyond sand castles.
Great for both girls and boys, the Ladybug Girl books will enchant you with lovely illustrations and tales that remind us to take chances, be awesome people, and never forget the importance of using your imagination.
Now it's YOUR turn to read these tales.
Just leave me a comment on this post and you could be one of two lucky winners to get your very own copies of Ladybug Girl and the Bug Squad and Ladybug Girl at the Beach.
Giveaway will run until the end of the day on Monday, September 5th.
Book values: Hardcover $16.99 each
Prizing & Samples courtesy of Penguin
*Disclosure: I was sent these books to review and offer a giveaway on my site. All opinions are mine.