A big part of gardening for me is experimenting. Finding the perfect type of tomato. Growing brocolli for the first time. Building your own support system for cucumbers and peas. Starting carrots from seed. It is all part of the experience and it is one of my favorite parts. When I lived in various apartments I grew things in pots but it wasn't until we bought our house that I had a real garden. A garden that takes up a decent portion of the yard and gets bigger every year. This is the fourth summer for us at the house, our garden this year is at its largest size yet and it is packed. Which is you know, AWESOME!
However, I have been a super lazy gardener this year and it is only packed because of the all the work I put in the past two days. Up until then? I would plant a little something here. Start a few seeds there. Prep the soil a wee bit. Get distracted twenty-five times by G-tot. Then get tired and go inside. It has taken me forever to get this operation up and running, but I finally have and I know I owe a great deal of that to this little item we picked up called a sandbox.
Behold its glory.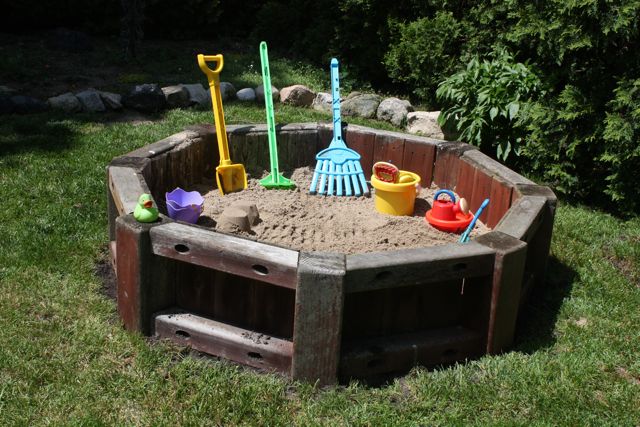 This sandbox has made working in the yard so much easier. G-tot absolutely loves it and it allows me to get so much done while still being able to keep an eye on him. The sandbox is about 5 feet in diameter so I can get in and play along! Plus, we got the frame for free. We just had to buy the sand which JQ picked up on sale. Total cost? About $25. Sweet.
But this isn't a post about the sandbox, it's about the garden. Which is now in. Almost. I still have a few packets of seeds to plant but I ran out of room in the actual garden. I also have a few packets of herbs to plant in pots that I didn't get finished today. Because I'm a lazy gardener. Also because the transplanting of some cilantro proved to be impossible for whatever ridiculous reason. I mean seriously, I am having  a hell of a time with cilantro this year. I've tried twice to transplant seedlings into larger pots. Both times the soil just crumbled away leaving me with a handful of spindly roots with no dirt around them. So tomorrow I'll just plant it in the big pot outside. Screw this indoor seed starting crap.
Anyway…want to see some pictures of the lazy garden?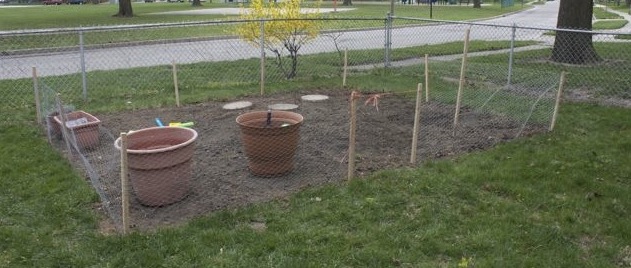 April 25, 2009
With the expansion in size we had to reset all the fencing. At this point we don't have the door on and the only things that are planted include some rosemary that wintered over, my first batch of green onions, and snap peas (in one of the large pots that would later be transplanted). The fence posts are set 8 ft. apart so we are looking at a space around 12′ x 14′.
May 30, 2009
I took this shot after dinner tonight. Right before I snapped the shutter I shoved that pile of weeds and maple helicopters from inside to garden to right outside the garden door. Instead of picking it up. Lazy gardening strikes again. Let me tell you what we have happening here.
Left to right, starting with the pots in the upper left.
Strawberries
Rosemary
Garlic Chives
Sugar Snap Peas
Broccoli
Cucumbers
Jalepeños
Carnival Mix Peppers (purple, gold, red, orange bell peppers)
Green Onions (in the long pot in the middle)
Grape Tomatoes
Roma Tomatoes
Stringless Green Beans
Romaine Lettuce (in large pot in upper right corner)
Carrots (in large pot in lower right corner)
Still to come—once I find a spot:
Cilantro
Parsley
Dill
Pumpkins (orange and white varieties)
Ambrosia Cantaloupe
Broom Corn
Hot Peter Peppers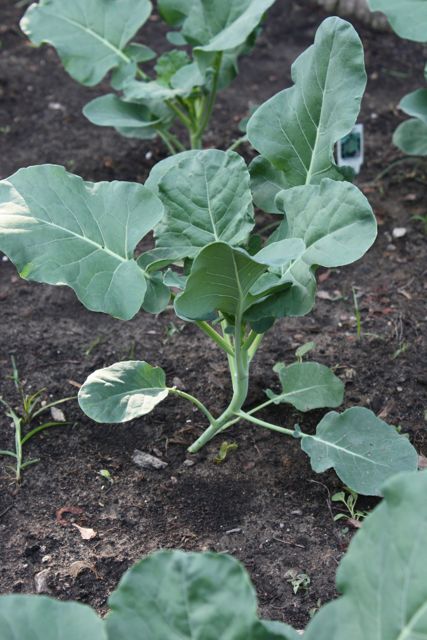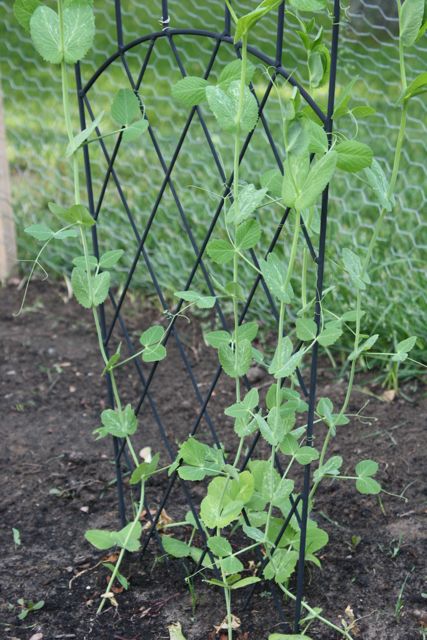 In addition to all the vegetables, I planted a bunch of flower seeds in the beds around the yard.
Morning Glories
Sunflowers
Cosmos
Asters
Snapdragons
Marigolds
Zinnias
Wildflowers from the Netherlands (given to us by friends that visited there last year)
I can't wait to see everything in full force this summer!