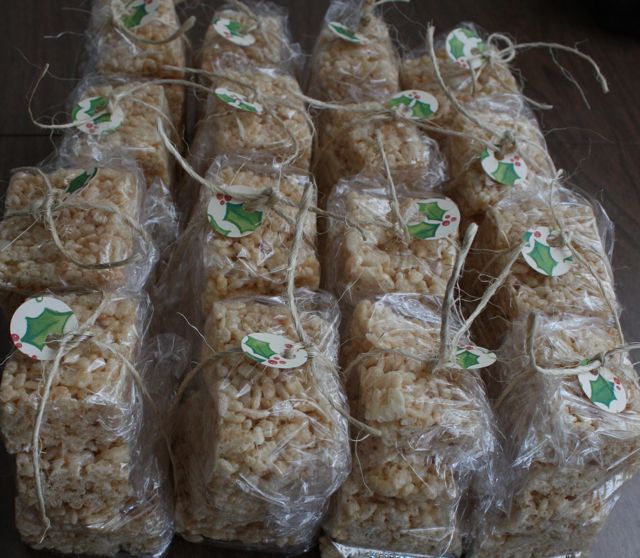 Every year there is a small cookie exchange where I work. The deal is 16 people sign up and each of those people make 4 of some type of cookie or other delicious sweet treat for everyone on the list. That's 64 delicious treats. You drop off your treat on the designated day with a container for the stash you are going to walk away with , little elves divide up all the goodies, and next thing you know you have a bunch of different treats just in time for the holidays. And you only had to make one 1/16 of the varieties now in front of  you. Sounds pretty good, right?
This is the first year I participated. And as you can see, I made Rice Krispie treats. Which I felt compelled to tie up with some twine and a little punched circle of holly paper. For reasons that should be obvious to most. I can be a little obsessive at times. The treats were due today and I wanted them to be extra fresh so I waited until yesterday to make them. The thing is, I worked until 10:15 yesterday so by the time I got home and actually started making all the treats it was well after 11:00 pm. It also took me a couple of hours to make, cut, package, and finish off my treats. So yeah, I was up until almost 2:00 this morning making Rice Krispies treats.
But don't they look delicious?
I mean, who doesn't like Rice Krispie treats? And I'm not talking about those crappy things you buy at the store. I'm talking about the real thing, Rice Krispie treats made from scratch. I swear I could eat an entire pan in one night if nobody was watching.
The best part? They are so easy to make. When was the last time you whipped up a batch? What are you waiting for?
Rice Krispie Treats
2 cups mini marshmallows
1 1/2 TBS butter (cut into small pieces)
4 cups Rice Krispies
Butter an 11 x 7 (for fat treats) or 9 x 13 inch pan (for thin treats)
Melt marshmallows and butter together in the microwave for 2 minutes stirring half way. (I stir with a wooden spoon sprayed with cooking spray to keep the sticky factor down.)
Remove mixture and stir once more. Immediately add the cereal. Stir to coat (again, sprayed spoon)
Press treats into the pan. Cool. Cut. Eat.