While checking out Party City's website yesterday to find out the cost of some latex balloons my eyeballs were ASSAULTED with this image on their home page.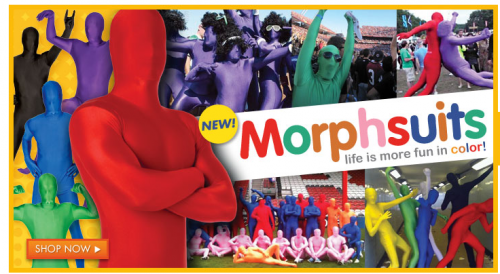 What the hell?
I swear this is the kind of stuff my nightmares are made of.
Can you imagine looking out your window late at night and seeing one of these things creeping around your yard? Or worse, you open the door of your closet and standing in the back corner is one of these freaks all in black waiting to cut your throat and steal your favorite shoes! Holy crap.
Here is your next blockbuster scary movie idea—Morphsuit Murders.
It gets worse.
Not only do these frightening things come in a rainbow of solid colors they also come in this.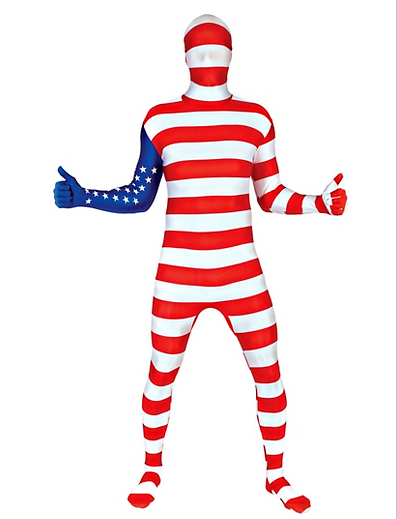 This is why so many people hate the U.S.A. isn't it?
Or…if you want to go for a little classier look there is this one.

Kind of hard to keep the focus on the bride if the groom is sporting this getup.
And if you're shy and don't want to stick out in a crowd you could always go with this option.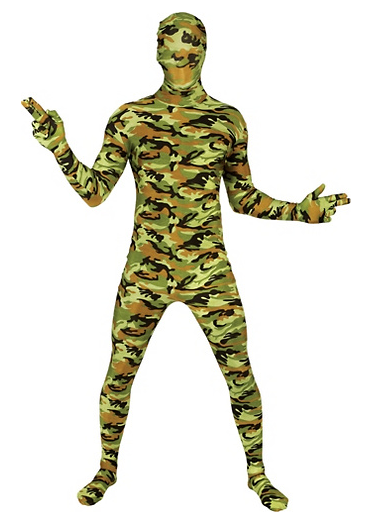 Wear this hunting and the game will be so freaked out you could just run up and knock them out with your fists.
Ready to head out and buy one yet?
Well, I have a few questions.
According to the description of these freakish spandex suits, "Morphsuits are designed to allow easy breathing, drinking and visibility". Easy drinking? HOW?
They are also "spot clean only". Can you imagine the funk that is going to end up all over a skin tight suit? Why would they not make it machine washable?
Just how much of a dude's package am I going to see? And are those models using the tuck option for the photos?
They come in Regular AND Plus sizes so perhaps the most important question is, do they make a maternity version? And were do I find a giant vagina so I can throw on a peach one and reenact the birth this Fall?