Tomatoes.
I have them. Lots and lots of them.
Tiny grape tomatoes all from one little plant. I thought I would be safe by just planting one grape tomato plant this year—along with two varieties of large tomatoes. I'm the only one that will eat the grape tomatoes but one can only eat so many of those little gems before they bad.
So what's a girl to do with quart after quart of grape tomatoes?
Dehydrate them of course.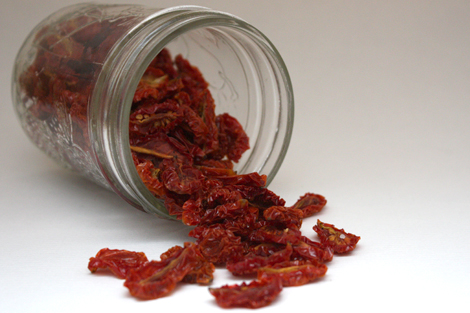 Turn them into little tomato candies that can be tossed in the freezer and used anytime you need some tomato flavor in your dishes.
Plump them back up in some hot water and add them to soups and sauces.
Chop them up and mix them with some basil, mozzarella, and olive oil to spread on a baguette.
Eat them on a cracker with a smear of cream cheese.
The possibilities are endless.
And the process? Super easy. All you really need is some time and an oven. Well, and tomatoes.
Oven Dried Tomatoes

Ingredients
Small tomatoes
Salt
Pepper

Directions
Set oven to about 150°.**
Cut tomatoes in half and spread cut side up on a baking sheet.
Sprinkle tomatoes with salt and pepper.
Bake for 8–10 hours until dried.

Toss in the freezer for long term storage or cover with olive oil and keep in the fridge for up to two weeks.

**My oven shows the lowest number as 200° but will heat up in the little section of white between the OFF and the 200° mark. I'm estimating that it is around 150°. What you want is a very low setting.
These are seriously yummy right off the baking sheet. Give them a try. You won't be disappointed.
This recipe is part of my 1 Year/100 Recipes Challenge. It was first made on 8.16.11.
Other recipes I've tried and posted about for this challenge include:
Shish Tawook Chicken & Garlic Sauce
Cheesy Ham & Hashbrown Bake