1 Year/100 Recipes. What's this all about?
The first recipe I chose for the 1 Year/100 Recipes challenge was Shish Tawook Chicken and Garlic Sauce (made 6.30.11). When I pulled this recipe out of my Entrees folder and looked it over, one thing that caught my eye was the date printed at the bottom—12.14.06. I have had this recipe in my possession for almost 5 years and had never made it. That is exactly why I'm doing this challenge. If I'm never going to make it—or if it doesn't taste good—why am I hanging on to these recipes for years and years?
Pretty sure from the recipe that there is nothing authentic about it but it was still really good. Good enough that both my husband and my 4 year old son really enjoyed it and agreed that it should be put in the "keep" pile.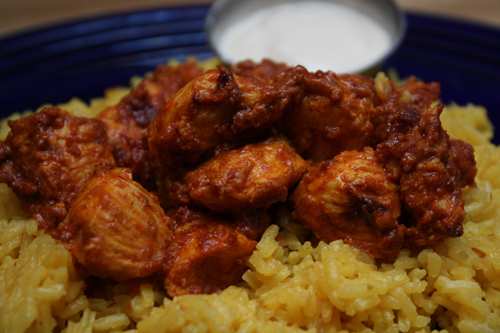 I did alter it slightly from the original as I made it and that alteration is what I'm going to share with you today.
I served it with yellow rice and some fresh veggies. If you give it a try I'd love to hear what you thought of it.
Shish Tawook Chicken and Garlic Sauce

INGREDIENTS

For the Chicken
3 TB vegetable oil
2 TB plain yogurt
2 TB ketchup
2 TB mustard
1 tsp garlic salt
2 tsp paprika
1/2 tsp black pepper
1/4 tsp cinnamon
1/4 tsp curry powder
boneless skinless chicken breasts—in bite size pieces (Recipe called for 3 pounds. I used what I felt was appropriate for a family of 3. Use what you need.)

For the Garlic Sauce
1/4 cup mayonnaise
1/2 cup plain yogurt
2 cloves garlic, minced
1/8 tsp salt

DIRECTIONS

For the Chicken
1. Mix together first 9 ingredients in a medium bowl (vegetable oil through curry powder). Add chicken pieces, coat thoroughly, and refrigerate for several 1. hours or overnight.
2. Sauté in pan for approximately 12 minutes (Until chicken is cooked through. No extra fat is needed in pan.)

For the Garlic Sauce
1. Mix together mayo, yogurt, garlic, and salt in a small bowl.
2. Cover and refrigerate to allow flavors to meld.