Every neighborhood has something. That little thing about it that makes it special. Maybe it's the way all the houses look the same right down to the paper birch trees planted next to the wooden mailboxes along the street. Or maybe it's the fact that there is never a weekend that goes by without the police speeding down your block with their lights flashing. Whatever it may be there is something unique about YOUR neighborhood.
My neighborhood's something shines on the 4th of July.
There is a small park near my house that could easily be overlooked by the passerby if they weren't paying attention. It's big enough for Little League but small enough that the only parking is on the streets in the neighborhood. And every year on the 4th of July some of the neighbors get together and shoot of fireworks in that little park.
Not just bottle rockets and roman candles either.
We are talking SERIOUS fireworks.
Fireworks that draw people and their lawn chairs from all over the neighborhood. They show up well before dark because they know how AWESOME the fireworks are going to be.

All those little white boxes have people in them.
The red one has the single cop car that hung out all night.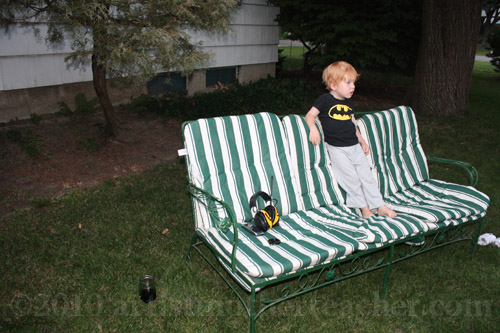 We prefer to just pull our patio furniture onto the lawn for the festivities.

This is not anything new in my neighborhood. It has been happening for over 20 years. This year was the 5th consecutive year we have enjoyed the show. From what I have been told it started out with a couple of key families contributing to the pile of fireworks back when permits didn't matter and the police didn't harass you for shooting Screaming Banshees off in the park with a blowtorch in one hand and an open can of Old Milwaukee in the other. Families moved in and out of the neighborhood but one of those primary families never moved. Year after year they shot off fireworks from the basketball court and baseball diamonds in that small park. When the father passed away he left a trust fund for his children to carry on the tradition for their mother each fourth of July. This year was no exception.
And although that particular family didn't contribute as much as they had in the past the other neighbors did.
For almost 2 straight hours.
*Right here is where the 82 seconds of explosive video I shot with JQ's phone would go if the file size had not been TOO BIG to send. Stupid file size limitation.*
This year marked G-tot's first experience with fireworks and they did not disappoint. I personally think it was the best fireworks display since we moved here. I hope someday he looks back and remembers that something special about our neighborhood.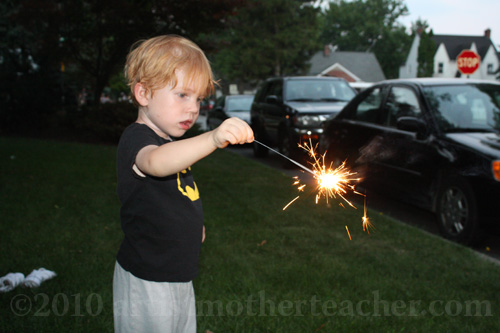 G-tot loved doing the "sparklies".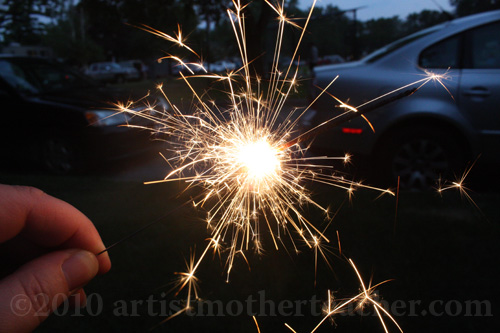 So did I.