This morning was the kind of morning that would normally keep me on the couch, bra-less, coffee in hand with the buzz of cartoons in the back of my head. It was foggy. It was cold. And the forecast called for heavy rain.
Who puts a bra on for days like that?
But today wasn't just any day. Today was the March for Babies walk for the NW Ohio Division of March of Dimes.
Today I was walking in honor of Maddie.
Now, I don't know Heather or Mike but that doesn't matter. When I heard about them losing their sweet Maddie last year my heart broke for them. Their story touched me as it had so many others. So when Brittany asked me this year to be a part of the Marching for Madeline team she set up I knew right away it was something I wanted to do.
I have not walked/biked/ran in an event for charity in a very long time. The last thing that really sticks out in my head was over 20 years ago. An event that took place at the same location as the kickoff for today's walk, where I raised enough money riding my bike around a track for a few hours for some charitable cause to earn the top incentive prize. A  boy's 10-speed bike.
Am I the only one who finds that prize to be a bit ironic?
*crickets*
Anyway…
Participating in a walk for charity is actually the first item listed on my 101 in 1001 list of things to do. With today's March for Maddie I can mark that one as complete. I can't think of a better reason to get to cross it off my list.
It was chilly but the 3 mile walk through Maumee was nice. JQ and G-tot joined me on the walk. And the rain stayed away just until we got back to the starting point. And then it started pouring.
Still is.
Many, many thanks go out to all of those friends and family online and offline that made a donation and supported my walk. Together you helped me raise $370 for the March of Dimes.
That makes me smile.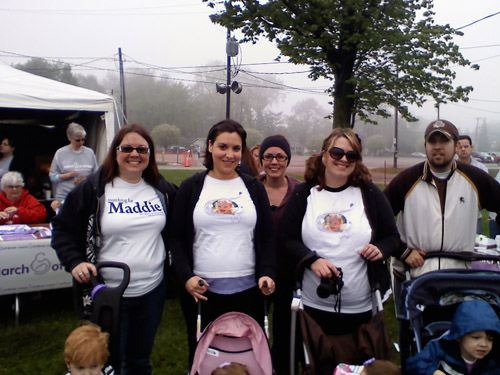 Not exactly sure why JQ chose to behead the children.