I was looking through an old photo album earlier trying to find a somewhat humiliating image from my past that might be good for a post about my awkward teen years. I found one—actually I found MANY—but I also found something far more significant. Something that I was looking for a month ago and never found. Probably because I looked half-assed but that's beside the point. All that matters is I found it and I'm not going to wait another moment to share it with you.
Even if it is the end of November and everyone is looking ahead to the winter holidays. Nobody is thinking about Halloween anymore but that doesn't really matter because… Um…
Well just look.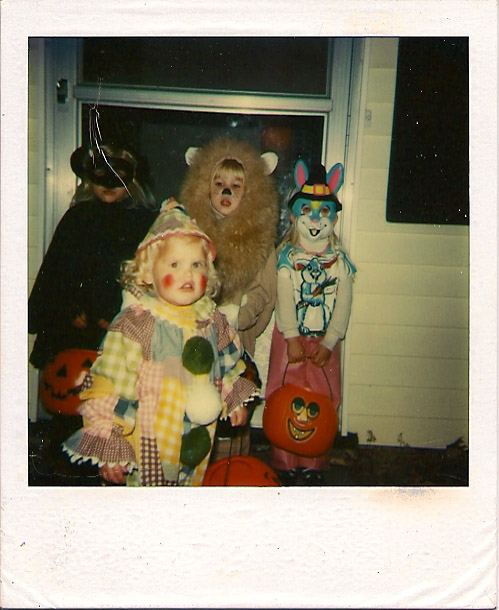 See that little kid in the lion suit? This lion suit? That's me. And finding this makes me so excited I could pee a little. You see, my mom made that lion suit for me when I was a little kid. It has been worn by a BUNCH of people—me, the neighborhood kids, my brother a decade and a half later. My mom made the mane out of an old coat and it fit all sizes but she also made a separate suit for adults so my dad had also worn it at one point. I wore the costume again as a teen and JQ wore it several years ago. And then this year my son wore it.
How awesome is that?
Also, how awesome is that plastic rabbit costume my friend on the right is wearing? Wicked cool.